Custom Windows Olympia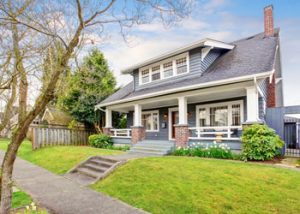 A garden window is one of the best options to enhance the visual appeal of a house. Considering this, many Olympia, WA homeowners are opting for custom window services to add this beautiful feature to their residence. However, to ensure the proper installation of a custom window in the Olympia area, make certain to depend on seasoned professionals.
We at Builders Service Company have been offering the finest custom window, picture window and garden window services to homeowners. Our experts design custom window placements in the Olympia area as per the needs and preferences of our esteemed clients. The following can be expected from us:
Services related to the repair and replacement of a custom window in the Olympia area
Careful installation of a custom window in the Olympia area
Energy efficient custom window
Assistance of skilled custom window service providers
Custom window designs at affordable prices
Our quality Olympia replacement windows will transform your house into a beautiful, safer and more energy efficient home. We offer professional, free advice on your needs of window replacement in Olympia and the surrounding areas so that your new windows and doors perfectly complement your home.
We know you've worked hard and earned the opportunity to build a dream home, which is why we carefully curate our window offerings. We have established long standing relationships with our partners so that you and your home will have the most remarkable results.
We call on our 40+ years of experience and passion in the window and door industry to provide our clients with exceptional products and outstanding service.
Custom Glass Windows
Installing a picture window in the Olympia area can be a great investment. Available in different shapes and sizes, a garden window offers the following benefits:
Picture window in the Olympia area brings more sunlight to home
Picture window enhances the appearance of a residence
Picture window in the Olympia area is easy to maintain
Picture window helps control heating costs in winters
Picture window offers the perfect place to keep flowerpots
If you are planning to invest in a garden window in the Olympia area, choose us as your professionals to enjoy the maximum benefits. Owing to our years of experience, we make certain to cater to your custom window, garden window and picture window repair, replacement and installation needs. Besides, we enable you to choose from unique garden window designs.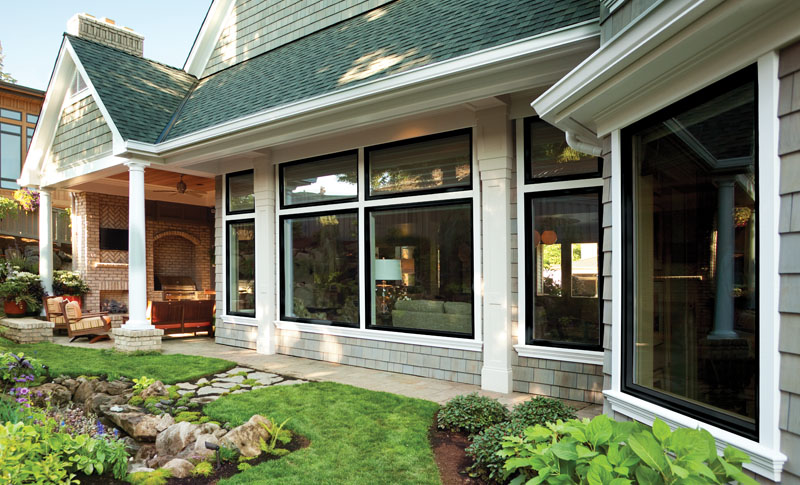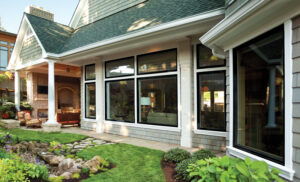 ENERGY-EFFICIENT HOME WINDOWS
Our replacement windows have fusion-welded frames and sashes that are filled with insulating foam. These features work in tandem with dual panes of Low-E glass to eliminate heat transfer into and out of your home. By preventing hot air from escaping or entering your home, our windows will help your HVAC system run more efficiently throughout the warm and cold seasons. The result may be lower monthly energy bills, savings that can add up month after month for a tremendous return on investment that essentially pays for the windows.
A STYLE TO CALL YOUR OWN
When you turn to Builders Service Company to outfit your home in Olympia with new replacement windows, we'll help you choose the perfect models to complement your home's exterior and interior design, and provide the functionality you prefer.
Custom Home Windows
A custom picture window is one that is usually installed in a living room. Apart from improving light transmission, a picture window in the Olympia area adds to the exquisiteness of your dwelling. This is why a picture window in the Olympia area is a popular choice among homeowners.
Whether you need picture window removal or installation service, count on us. We make certain not to disturb your schedule, offering hassle-free service for a picture window in the Olympia area. The following can be expected from us:
Easy to install picture window in the Olympia area
Picture window that enables you to enjoy beautiful outside views
Cost-efficient picture window
Replacement of a picture window
Dedicated assistance to choose the best window
DESIGNING YOUR NEW WINDOWS
With numerous colors and woodgrain patterns to choose from, you'll be able to personalize your new windows to reflect the aesthetic you've chosen for your home. Additionally, you'll be able to select from a range of attractive hardware to complete the look.
WINDOW STYLES TO MEET YOUR NEEDS
Our replacement windows are available in a wide range of styles to provide the functionality you prefer. Choose from:
Bay and bow — extend outward from the home to add a unique architectural element on the exterior and a cozy nook on the interior

Gliding — for easy opening and closing by sliding along a track

Picture — immobile windows that serve to frame a view of your outdoor space

Single-hung — defined by one moveable sash that slides vertically

Double-hung —features two moveable sashes

Casement — a window that swings open like a door

Specialty — a custom-shaped window to fit the unique architecture of your home

And more
Builders Service Company proudly serves homeowners in Olympia and the surrounding communities from our Western Washington headquarters. Schedule a free in-home appointment with our Olympia representative to discuss all your window, sunroom, siding, and door options.
Builders Service Company not only offers Olympia residents consultation, installation and service from our local representatives, but we proudly make our replacement windows, sunrooms, siding, and entry doors right here in the USA. This "single-source" accountability – from product selection, to custom manufacturing, to installation and service – means Olympia homeowners only deal with Builders Service Company and nobody else.
Olympia weather can be hard on a home's exterior so have peace of mind knowing that your American made windows, sunrooms, siding, and doors are covered by our Limited Lifetime Warranty. If something breaks, our team will fix it.
For quality repair, replacement and installation services for a custom window, picture window and garden window, residents of the Olympia area can call Builders Service Company at 888-980-8580.